The sensory characteristics of crackers are many and profound. A cracker is a baked good characteristically made from flour. Flavorings or seasonings, such as salt, herbs, seeds, and/or cheese, may be added to the dough or sprinkled on top before baking. Crackers are known for their distinct characteristics – usually thin, crispy, dry, savory or well-seasoned. What sets them apart? Today we'll consider some of the differences of popular crackers from a sensory perspective.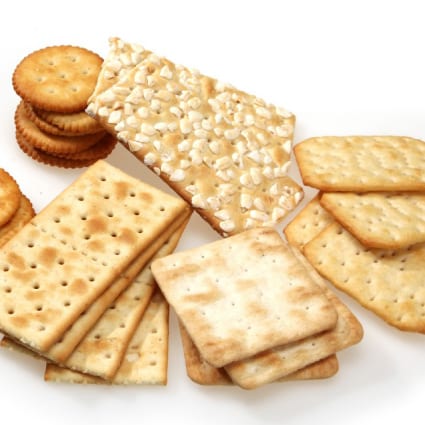 Animal Cracker Always a crowd favorite, an animal cracker is a small cracker baked in the shape of an animal, usually an animal one might see at a zoo or circus. The most common variety is light-colored and slightly sweet, but darker chocolate-flavored and frosted varieties are widely available. Although animal crackers are made with a layered dough like crackers, they are sweet like cookies.
Graham cracker Graham crackers are made with graham flour, a combination of finely ground unbleached-wheat flour with the wheat bran and germ coarsely ground and added back in providing flavor. While graham crackers started out as a mild food, unsweetened or mildly sweetened, they are more commonly known as a sugar – or honey-sweetened baked good that approaches a cookie today.
Oyster cracker Oyster crackers are small, salted crackers. They are often served with oyster stew, but oyster crackers do not contain oysters. They are similar in ingredients and flavor to saltine crackers. Plain oyster crackers are at times seasoned with spices. Although they usually have a taste similar to saltine crackers, they are far less salty. Many different companies produce oyster crackers with different combinations of shortenings and other ingredients, but retaining the same general shape and size.
Saltine cracker A saltine or soda cracker is a thin, usually square cracker made from white flour, yeast, and baking soda, with most varieties lightly sprinkled with coarse salt. It has perforations over its surface. It has a very dry and crisp texture. Unsalted tops as well as whole grain saltines are also available.
One of the most popular crackers in the world is described by consumers as having buttery rounds, with a hint of sweetness, that almost melt in your mouth without leaving your fingers greasy. Consumers often enjoy an airy texture. Tangy and super cheesy, petite squares won raves from both child and adult testers. Generous air pockets make for an extra-crisp crunch, which consumers also like. Nooks and crannies are also important for consumers who like to dip their crackers. Rustic wheat-and-rye sheet crackers are infused with earthy hops and the subtle tang of pilsner, popular with avid beer drinkers. Other popular crackers are laced with plump raisins, fragrant rosemary, and sunflower seeds. Multi-seed crackers are growing in popularity because they are wheat free. Sesame, flax, quinoa, and amaranth seeds enhance the texture of these snappy brown-rice crisps.
Crackers are BIG business. The two most popular brands of crackers in the United States generated sales of about 1.1 billion U.S. dollars while the top 10 combined generated sales of 3.3 billion U.S. dollars. Whatever cracker you choose it is important to know the regional popularity and the very diverse sensory characteristics associated with this multibillion dollar industry. For a certainty, a cracker is not just a cracker!
###
This article is free information from Contract Testing Inc., an established leader in sensory product research and consumer product research for the food, beverage, and (QSR) quick service restaurant industries throughout the United States and Canada. To learn more about the complete scope of product research services, please call 1-905-456-0783 or visit us online at www.contracttesting.com.