Sip it from a cup, slurp it from a spoon – it's the perfect last-minute lunch option for ravenous school kids, or a quick and nutritious meal in-between work and soccer practice.  Only a few turns of the can-opener, five minutes on the stove, a couple stirs and presto - soup is served. Through much of history, soup has been a simple option, requiring nothing more than boiling a chunk of meat in water to create a warm, nourishing broth. Historical references to soup date back about 9,000 years ago, although some anthropologists now believe that soup was likely a staple of the Neanderthal diet suggesting its true origins are more like 300,000 years ago!
While homemade soup is still very popular, soup made from scratch has become somewhat of a lost art in today's fast-paced lifestyle. But the popularity of soup has not diminished and there is no shortage of convenient options for today's soup savvy consumer-dried, chilled, canned, ready-to-eat, low-cal, low-sodium, gluten-free, organic – all offered in an endless selection of flavours. 
Condensed soups arrived on the scene in 1897 thanks to Dr. John Dorrance, a chemist at Campbell, and they have been a mainstay in our canned good repertoire ever since. Although this segment of the processed soup category has declined as ready-to-eat and fresh soups have become more widely available, Canadians remain big fans, consuming it on average more than three times a month.  In two recent product tests, we measured the sensory performance of condensed tomato soup and mushroom soup to explore whether the brands competing in this space all taste equally souper!
In both central location tests, respondents included 50 females between the ages of 25 and 54 from the Greater Toronto Area who are the primary grocery shopper in the household and who were regular consumers of condensed soup.  
Within each test, four regular full-flavour brands were presented blind in varied order, with each participant evaluating 4 ounces of each sample.  The soups were prepared using a combination of half water, half milk – despite the fact that instructions on the cans recommended water only. On this note, we asked participants how they normally prepare it at home and they were equally divided between water only, milk only, and a combination of the two.
Among both tests, only three brands of condensed soup achieved the Contract Testing norm for Overall Liking in this category of 6.8 (out of 9), with three of the four mushroom soups falling dismally below the norm (Fig. 1).
Figure 1 – Overall Liking (Mean)
Further evidence of these performance trends is illustrated with top two box purchase intent (definite and probably purchase), which also fell below the norm for this category for the same brands as above (Fig. 2).  Two of the mushroom soup contenders had particularly concerning scores on this key measure - brands B and C, with very low purchase interest of 16% and 9% respectively.
Figure 2 – Top 2 Box Purchase Intent and Overall Liking (definitely or probably will purchase)
To better understand the underlying reasons for these performance trends, take a closer look at the sensory profile of each soup variety – what is driving the performance trends…  diagnostic issues.
One the top performers in this array (Brand A) had a couple particular strong points contributing to its success: tomato flavour and creaminess. In both cases, Brand A stood apart with the highest 'Just About Right' scores for both attributes (Table 1).  As for the remaining brands, all suffered from weak tomato flavour and lack of creaminess. 
Table 1 – JAR Midpoints for Tomato Flavour and Creaminess
Taking a closer look at the downfalls of the weakest performing tomato soup (Brand B), participants did not like most aspects of this soup.  However, the colour and creaminess were the issues disliked by the greatest number of participants (Table x).
Table 2 – Negative Distribution by Product Attribute
Intensity ratings also support the fact that Brand B stood apart as the least creamy with the most unnatural colour among all the brands. The unappealing visual cues of Brand B were a crucial disadvantage, highlighting a common sensory pitfall of straying too far from the natural colour associated with a flavour.
Table 3 – Intensity of Creaminess and Naturalness of Colour
Brand A stood apart as a clear winner in this contest and the winning feature of this soup was the mushroom flavour (Fig. 3).
Figure 3 – Liking of the Mushroom Flavour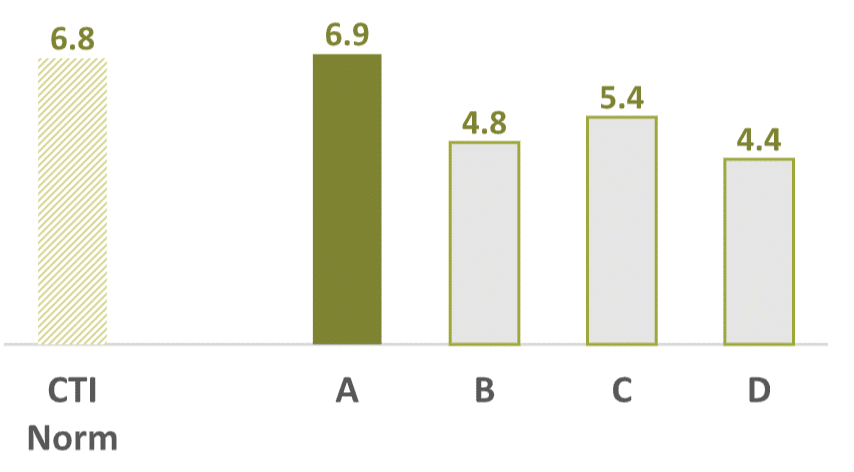 It had the strongest presence of mushroom flavour, boasting a 69% just right score which far surpassed the other three brands (Fig. 4).  Brands B and D both demonstrated an extremely weak presence of mushroom flavour. 
Figure 4 – Strength of Mushroom Flavour
The winning mushroom soup was also perceived to have a very natural taste and colour, which were both serious downfalls of poor performers B and D. 
Table 4 – Naturalness of Taste and Colour
But the winning flavour profile of this brand did come with a downside, as it also had the highest fat, sodium, and calorie declarations, and the presence of MSG on the ingredient list (notably frowned upon in some consumer segments.)  The salty taste of this soup was also problematic for some. Texturally, the viscosity of this creamy soup was slightly too thin, but significantly better than brands B and D which had serious problems in this area (Fig. 5). 
Figure 5 – Thickness of Soup
So overall this winning mushroom soup was on solid ground within the competitive test array, but it still demonstrated some room for improvement, and its star quality came at the price of having the least desirable nutritional profile.
These days canned condensed soups may not carry the same panache and excitement as the barrage of new panty options that are competing for share of the shopping basket.  But for a product that carries much of the same taste and benefits as it did when it was first introduced 120 years ago, it is a shining example of how a simple product which delivers value and consistency, can have extraordinary staying power.  While there may be temptations to change it up in order to compete with the latest 'soup of the day' and deliver to shifting consumer food trends and tastes, for some products, change comes at a big risk. And if your mission is taking on a competitor in a space where consumer tastes have been conditioned over time and brand loyalties run deep, staying close to the existing consumer-endorsed template maybe the only way to avoid getting 'bowled' over. 
Matrix Sciences is an industry leader in sensory evaluation and consumer product testing. We are the only sensory evaluation and consumer product research company with corporately managed test sites in both Canada and the United States.
With 30 years of experience, we are innovators in testing with consumers across all major food, beverage and household and personal care categories.
For questions about this research, or how you can leverage consumer taste buds in your business, contact Andrew Scholes using this form or call 1-800-342-1825.